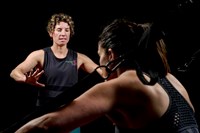 Virtual Memberships
Our online virtual membership gets you moving in your own space whether it be a lounge room, or backyard!
For $20 a month you get access to all our private you tube classes (strictly private channel), weekly Virtual (zoom) classes, nutritional information with recipes (exclusive to CIUT community), expertise health advise, and much more. All via a secure portal log on.
Don't want to pay for the entire month? No worries, you can also buy a single class for just $5. This gets you access to 1 virtual (zoom) class whether it be HIIT class, or a Yoga or Pilates class.
$7 for 7 days unlimited trial!
You can try ANY face to face Change it Up class as many times as you like for just $7!!!
You are just a couple of clicks away from getting started, please download the Mind Body app in either itunes or Google Play and search for Change it Up Training.
Ready to join our Community?
Ok great, you are ready to join our community. We offer three memberships packages to enable you to tailor your training program to suit your lifestyle and budget.
Members: Feel like a little more?
If you are a Gold or Silver member and feel like a little more, you can purchase an add-on for any additional classes over and above your monthly membership limit for just $11 per class.
Not quite ready to commit?
If you are not quite ready to commit however would love to be part of our community, why not come along and purchase a casual pass for $18 for group fitness classes. Casual passes can be purchased through the Mind Body App.
Just looking for Yoga?
We have huge demand for our amazing Yoga instructors and appreciate that you may only want to attend our mindfulness classes. Why wouldn't you? Our Yoga classes are the cheapest and best (we are of course very bias) in the Macedon Ranges. To ensure that you can get your Yoga fix, we offer casual Yoga passes for $25 per class or a ten class Yoga pass for $200. Both options can be purchased directly through the Mind Body App.
Don't forget, our Platinum memberships include unlimited access to our Yoga classes.
To sign up for one of our memberships, please follow the links on the two forms below
Mind body app
We use an online booking system to simplify classes for our clients using an app called Mind Body.​
You can easily download Mind Body from the app store and save Change It Up as your favourite provider so it becomes your app home page. You can view our full schedule on the app, read about classes and book in.