About Change it Up
Change it Up prides itself on making a meaningful difference to people wanting to live a healthier, stronger, active life. We understand that life is busy and do not think that this should inhibit your ability to live your best life. Our structured group training sessions and online content enable you to tailor a training program that compliments your daily activities. Your choice of group sessions range from HIIT classes through to Pilates and Yoga ensuring you can holistically improve your mind and body.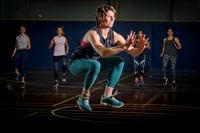 Change It Up Training is more than a workout. We are a support system.
We empower. We inspire.
We challenge. We motivate.
We support. We care.
Change It Up Training will help you live your best life.

Louise and Kelly are the faces behind Change it Up and are extremely passionate about motivating other like minded people. Louise and Kelly are both working Mum's and own and run Change it Up because they both believe that having the opportunity to workout in a safe environment is not only rewarding for your fitness but also promotes positive mental health.
They are progressive in their thinking and are constantly evolving the business to keep up with the latest fitness trends. Being motivated by making a difference in the day to day lives of their community they are always approachable and open to positive feedback on how they can improve your experience.
Louise and Kelly have built a culture within the Change it Up team to challenge you within a safe environment so that you get the most of out of your workout.