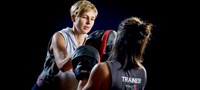 Can i bring kids to the class?
Yes! Absolutely. This is what we're here for. Most of our clients are mums and many bring their children. That's not to say we exclude anyone who doesn't fit in those categories though! The kids love the classes more than mum, meeting new friends, playing games and having a ball.
How do I pay? And do I need to book before class?
At Change It Up Training we utilise the MindBody software, which allows you to book, pay and keep track of your classes in your very own app. Simply download the app, search for "Change it up Training" and follow the easy to use prompts.
By booking in this allows us to know who is coming to class each day. Log into your account via the app and book into your desired class.
Yes, you need to prebook your classes.
I am very unfit, can I still come along to class?
Yes absolutely!
Everyone is welcome at Change It Up Training, and you will experience an inviting, supportive and encouraging environment. At Change It Up we focus on creating a community, not individual fitness fanatics. Each person is on their own fitness journey, not one single journey will be the same.

If you are very worried about your fitness or previous injuries, we are more then happy for you to call us and discuss.